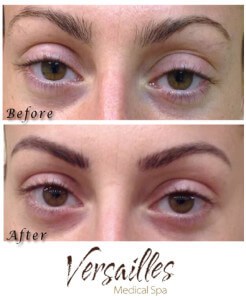 Here at Versailles Medical Spa in Darien, we couldn't be more excited about microblading! Microblading by Marie at Versailles Medical Spa is the premier provider of microblading in Fairfield County, CT and the entire tri-state area! We get the softest, most natural-looking results for our Connecticut and New York clients. Today we'll be answering a question that we frequently hear - what exactly is microblading?
Microblading is a form of cosmetic tattooing that creates the appearance of real hair follicles. Instead of tattooing one large block that resembles a drawn-on eyebrow, microblading makes very fine feather-strokes that look soft and beautiful - never too bold or overdone! It's the most advanced and natural-looking method of permanent makeup today, and can only be administed by the most experienced provider - Marie Saade of Versailles Medical Spa!
"Microblading is truly an art form," says Marie, "it's important to select a provider that has experience with microblading, as it is a totally different technique and method than traditional permanent makeup. Whereas permanent makeup tattooes a more filled-in look, this looks like real hair. In addition, we only use an all-natural, organic pigment for soft and very natural-looking results."